wat schrijft de engelse pers over onze ford ranger....
Storm in a Pick up by Yahoo cars
Ford Ranger Thunder special edition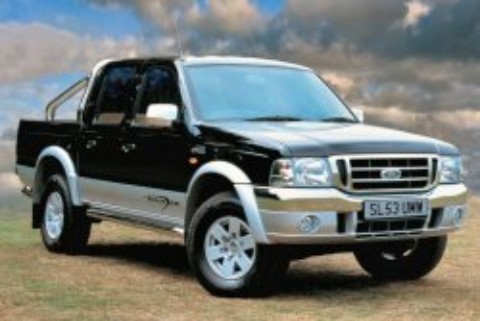 First written on 08-09-2005
Launched The Thunder Special Edition Of Their Ranger Pick-Up To Compete With The Best That The Top End Of The Pick-Up Market Can Muster. Steve Walker Assesses Its Chances

A good pick-up truck must have the potential to be all things to all people. At the bottom of the range, cheap and cheerful models should provide the no-frills durability prized by operators who want their vehicle to work for a living. These uncompromising owners will have no qualms about filling the load bay with manure, transporting damp dogs around in the cab and driving over the kind of terrain that would test a Challenger tank. To them, car care begins and ends with a cursory hosing down of the bodywork once in a blue moon.
At the top of the range, meanwhile, you have the lifestyle pick-ups trendy urban vehicles that might never turn a wheel on anything grubbier than a gravel driveway. In this sector of the pick-up market, image is everything, leather upholstery, chrome-detailing and extended wheel-arches are the norm. Its here that the Ford Ranger Thunder is getting ready to rumble.

When the revised Ford Ranger range first appeared early in 2003, the utilitarian models that formed the base of the line-up were all present and correct. Farmers, landscape gardeners, builders and the like could take their pick but what about the snowboarders, windsurfers and tax-dodging business people? They wanted the chunky looks, the trendy image, the commercial vehicle tax classification and they didnt much care if the Ranger could drive through a swamp or not. For these individuals, Ford wheeled out the XLT double-cab derivative. Sure, it offered some chrome, a CD player and the ubiquitous two-tone paintwork was on the options list but, in terms of both styling and equipment, it fell some way short of the standards set by the best exponents of the lifestyle pick-up genre.

Models like the Mitsubishi L200 Warrior and the Nissan Navara Outlaw put Ford firmly in the shade then but not since the Ford Ranger Thunder arrived.

Based on the moderately hip XLT, the Thunder special edition is a dedicated follower of fashion.

Based on the moderately hip XLT, the Thunder special edition is a dedicated follower of fashion. The standard two-tone paint scheme covers the upper three quarters in black leaving the remaining lower section free for a lighter silver hue. Youll know the vehicle is a Ranger Thunder model by the Thunder decals on the silver paint behind the front wheelarches. Fog lamps are set into a more prominent body-coloured front bumper, which also features a chrome section to match the brightwork on the grille, wing mirrors and the tubing around the rear of the cab.

Inside, its Charcoal Grey leather all the way, stretched generously over the firm, supportive seating to complete the Thunders bold, in-your-face persona. A mere 750 Ranger Thunder models are destined to be sold in this country, so buyers wont have to live in constant fear of an identical pick-up cramping their style while theyre out cruising the streets. A standard Ford Ranger double cab costs from £14,700, an XLT model will set you back to the tune of £16,300 and the Ranger Thunder starts at £17,600 (all prices are excluding VAT). Looking at these prices one thing becomes clear, namely that the extra equipment contained within the Ranger Thunder special edition package doesnt come at much of a premium over the XLT.

If you were considering an XLT anyway, for £1,300 extra you can take possession of the all-conquering Thunder. It shouldnt take too long for most punters to pinpoint the sensible course of action. The Thunder, like all 4x4 Ford Rangers is powered by a 2.5-litre 12-valve Duratorq turbo diesel engine tuned to generate 107bhp.

The Duratorq set-up is powerful with good low-end torque similar, in other words, to the diesel powerplants that youll find in most UK market pick-ups. The 4x4 transmission system also follows a familiar formula. The driver can select three modes, rear-wheel drive, 4x4 and a special low range 4x4 for serious offroad obstacles. To aid rear-wheel traction on treacherous surfaces, theres a limited slip differential as standard.

The Ranger performs well in the rough with its proven mechanical set-up and chassis. Where Ford have taken a distinct step forward is in terms of the comfort and handling in the latest version of the Ranger. The on-road ride of pick-ups generally leaves something to be desired - especially when unladen - and even though the Ranger still maintains this rather bouncy tradition, it subscribes to a less extreme form. Both front and rear dampers have been tinkered with, making journeys over rough road surfaces noticeably more sedate.

In addition, driver-friendly alterations to the power steering and gearbox make pottering about town less of a chore. Inside all Ford Ranger models, including the Thunder, you get class-leading space and better materials than youd expect from what is essentially a commercial vehicle. The seating is firm and supportive for longer trips, while the driving position is far more laidback and car-like than youd credit. If youre going to be keeping expensive tools on-board, youll like the addition of optional remote-central locking and the standard immobiliser which forms part of Fords PATS, passive anti-theft system.

With this kind of security kit on-board, you can be reasonably confident that nobodys going to steal your Thunder. Standard safety features include driver and passenger airbags along with ABS. The addition of the Thunder special edition to the top of the Ranger line-up finally gives the big Ford a like-for-like competitor with which to challenge the most flamboyant and luxurious pick-up products from Japan. Its extensive equipment list and sensible pricing levels are likely to dent sales of the not so loaded XLT derivative but it should pull in buyers who would previously have given the Ranger a wide birth in favour of a Nissan Navara or top-spec Mitsubishi L200.

The Thunder is definitely more Ray Bans than wellies but, increasingly, so are a good proportion of UK pick-up purchasers. The 750 Ford Ranger Thunders shouldnt be clogging-up the showrooms for too long.

FACTS AT A GLANCE
PICK-UP: Ford Ranger Thunder Pick-Up
TOWING CAPACITY: [Braked] 2,800kg GROSS VEHICLE WEIGHT: 2,845kg.
STANDARD SAFETY FEATURES: Driver and passenger airbags, anti-submarine front seats, collapsible steering column, safety belt grabbers.
WILL IT FIT IN YOUR GARAGE?: Length/Width/Height (mm) 5012/1740/1740